Jakks Pacific Announces Plans for Toronto UFC Fan Expo 2011!
New figures to be revealed at event!...

JAKKS PACIFIC REVEALS NEW UFC® ACTION FIGURES WITH
A SNEAK PEEK OF NEW DANA WHITE AND TAPOUT CREW FIGURES
AT CANADA'S FIRST EVER UFC® FAN EXPO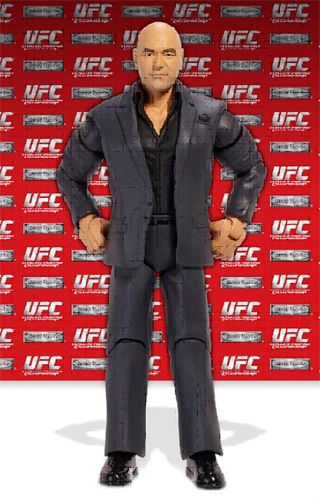 JAKKS UFC Products Available for Sale at the JAKKS Booth While Supplies Last
What: MMA fans will get a sneak preview of Ultimate Fighting Championship® (UFC®) Series 10 and 11 action figures from leading U.S. toymaker JAKKS Pacific, Inc (Nasdaq: JAKK) at the first-ever Canadian UFC® Fan Expo celebrating UFC® 129: ST-PIERRE vs. SHIELDS in Toronto. Also available for preview is a prototype of the new UFC Dana White action figure, releasing to retail this summer, and the debut of the TapouT Crew's first-ever action figures.
JAKKS will also have available for sale the ever-popular UFC Big Gloves, UFC Championship Belt and the full set of Series 7 figures, as well as an assortment of "Best of 2010" figures, which feature some of the best and most popular UFC fighters such as Georges St-Pierre , Clay Guida, Tito Ortiz and more.
Don't forget to check out http://www.facebook.com/UFCtoys to get a sneak peek on new product lines and receive the latest JAKKS UFC photos and updates!
Who: Leading U.S. toymaker JAKKS Pacific
MMA fans. All attendees must have a ticket to enter UFC Fan Expo.
Tickets are available for purchase at www.ufcfanexpo.com.
When: Friday, April 29 (10 a.m. – 6 p.m.) – Saturday, April 30 (10 a.m. – 5 p.m.)
Where: JAKKS Booth # 1513
Direct Energy Center, located at 100 Princes' Blvd., Toronto, ON M6K 3C3, Canada
Why: UFC® Fan Expo heads to Canada for the first time with the largest collection of UFC® fighters ever to appear in one location, exciting special events, interactive Q&A sessions, meet & greets, Training & Development sessions, the Octagon®, and much more. It is the ultimate experience for any sports fan.
For more information about UFC Fan Expo visit www.ufcfanexpo.com
For more information, or current UFC fight news, visit www.UFC.com
Click here to discuss this news on the MMAFigs forums